At-Home Training
At-Home training quizzes are FREE to all participating SENDCAA child care providers and their employees. All quizzes must be completed and submitted to SENDCAA to earn the training credit.
At the end of each month, providers who have completed the requirements and qualified for training credit will be sent a training certificate. Growing Futures will be notified of the training completion.
Building Blocks for Success: 2018 CACFP Calendar
Training deadline is November 29, 2018.
Please read through the 2018 calendar before completing the following quizzes. Answers will be found in the calendar.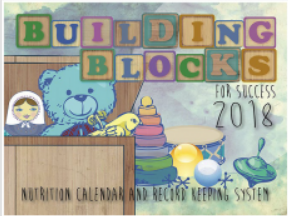 Complete two physical or craft activities from the calendar with the children in your care and answer the questions by clicking on the link.
Take one photo of each activity and email to jennyn@sendcaa.org (photos will be confidential and will not be shared on social media). 1 hour training credit
---
Make two recipes from the calendar and serve at your child care home and answer the following questions by clicking on the link. Take one photo of each prepared recipe and email to jennyn@sendcaa.org (photos will be confidential and will not be shared on social media). 1 hour training credit
---
Read through the 2018 calendar before completing the attached quiz. Answers will be found in the calendar. 2 hours training credit
---