Fargo Staff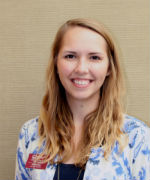 Martha Holte, Coordinator
701-232-2452 ext. 118
marthah@sendcaa.org
Martha Holte is the SENDCAA Child and Adult Care Food Program Coordinator.
Martha grew up in various cities around Minnesota, graduating from Mora High School and receiving a Bachelor's Degree in Food, Nutrition, and Dietetics from Concordia College. After graduation, Martha worked as a Nutrition Educator for the SENDCAA Food Program, Nutrition Consultant and Lead School Age Teacher for a local daycare center, Direct Service Professional for Creative Care for Reaching Independence (CCRI) and as a Program Specialist for Community Action Partnership of North Dakota (CAPND), later moving into the Program Coordinator position. As the Program Coordinator for CAPND, Martha oversaw the Individual Development Accounts (IDA) program, Sportsmen Against Hunger, Supportive Services for Veteran Families (SSVF) and facilitation of poverty simulations, ensuring programs were impactful across the state. She also assisted in marketing and promotion of all statewide programs, developing resources to sustain and expand services.
Martha and her husband, Peder, live in Fargo with their two rescue dogs. In her spare time, she enjoys volunteering at 4 Luv of Dog Rescue, fostering dogs in need and spending time outdoors.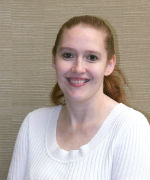 Jenny Nelson, Program Assistant
701-232-2452 ext. 132
jennyn@sendcaa.org
Jenny Nelson started at SENDCAA in the summer of 2006 and has been a great help to our program. Previous she worked as an Abstract Assistant.
Jenny is married with two sons and lives in the Fargo area. Originating from LaCrosse, Wisconsin and an avid Packers fan, her office is proof displaying a supply of Packers memorabilia. She graduated from Onalaska Luther High School and has lived in numerous states until finally settling in Fargo, North Dakota. Jenny's youngest son has Treacher-Collins Syndrome. One in 50,000 babies are born with it and he has a mild case, still requiring surgeries throughout his life. These surgeries will help reconstruct some of the distinctive facial features presented with Treacher-Collins. Jenny's oldest son is very outgoing and rambunctious, but most of all he is a loving brother and very, very proud of his little brother.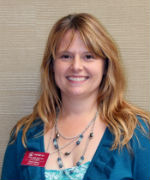 Sharla Olson, Nutrition Educator
701-232-2452 ext. 156
sharlao@sendcaa.org
Sharla Olson has been a Nutrition Educator with the SENDCAA Food Program since 2008. 
Sharla was raised on a farm near Sabin, Minnesota and was active in 4-H, where she developed her love for cooking and baking. She graduated from Moorhead High School and received a bachelor's degree in Food and Nutrition from NDSU. After graduation, Sharla worked at WIC (Women, Infant and Children) in St. Paul, Minnesota and later in Fargo, as a Licensed Nutritionist. After her employment at WIC, Sharla became a stay-at-home mom for eight years. Sharla and her husband have three boys. In her spare time, she is kept busy driving her boys to sport activities and slowly learning the rules of the games. She is an active PTA volunteer at her boy's schools in Fargo. Sharla also enjoys traveling to new places and trying new recipes to share with Child Care Providers.
Heide Martin, Nutrition Educator
701-232-2452 ext. 126
heidem@sendcaa.org
Heide Martin has been a Nutrition Educator with the SENDCAA Food Program since January 2014.
Heide grew up on a farm south of Wahpeton, North Dakota and graduated from Wahpeton High School. She then received her Bachelors degree in Elementary Education with a minor in Early Childhood Development from Valley City State University. After college Heide began working as a School Age Supervisor for a daycare center. After her first child was born, Heide started her own family daycare business and was enrolled in the SENDCAA Food Program during that time.
Heide and her husband, Travis, live in Fargo with their two children. In her spare time Heide enjoys cooking and baking and has a passion for cake decorating.
---
Wahpeton Staff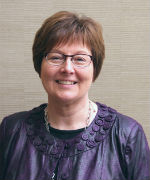 Diana Freese, Nutrition Educator
701-642-3497
dianaf@sendcaa.org
Diana Freese has worked with the SENDCAA Food Program since 1988, serving providers in Wahpeton and surrounding counties.
Diana grew up on a farm in Western Nebraska. She graduated from the University of Nebraska-Lincoln with a Bachelor's in Home Economics (back when it was still called Home Economics). She learned about cooking and baking through many years of 4-H projects and by helping her Mom in the kitchen. Diana grew up with great meals and tried to do the same for her own family.
After meeting her husband Pat in Nebraska, they moved to his family's farm north of Breckenridge, Minnesota to raise their family. They have two grown children and Diana is happy to say that both of her children have learned to cook and are great at it. Now that they are grown, they are willing to try any kind of food and seem to enjoy it all! Diana is active in the Southern Valley Early Childhood Initiative and helps with fundraising for the Weekend Backpack Food Program in Richland & Wilkin Counties. She is a Master Gardner and her focus is flowers, but she loves fresh produce and also raises a few vegetables. Diana also enjoys traveling and trying out new restaurants.
---
Grand Forks Staff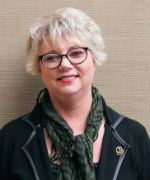 Bonnie McNamee, Nutrition Educator
701-330-2390
bonniem@sendcaa.org
Bonnie has worked with the SENDCAA Food Program since 2012, serving providers in Grand Forks and surrounding counties.