2020 Statewide Needs Assessment
Community Action Agencies recently conducted a statewide community needs assessment in conjunction with North Dakota State University and the North Dakota Department of Commerce, Division of Community Services. Each of the eight regions in North Dakota have comprehensive results that showcase the needs in their specific geographic region related to employment, income and asset-building, education, housing, health and social/behavior development, civic engagement and other supports. 
Top Needs Identified by People Experiencing Poverty - Region 5
| Category | Need |
| --- | --- |
| Housing | Rental Assistance |
| Employment | Finding a Job |
| Income | Financial Issues |
Rental Assistance became the first priority need of people experiencing poverty in Region 5 and would include rent deposits, rent payments, and renter/tenant rights. This need represents their immediate (short-term) need, which could be partially or significantly affected by the COVID-19 pandemic.
Finding a job and Financial issues were identified as additional top needs. These likely represent long-term needs for individuals currently experiencing poverty in Region 5.
Statewide Summary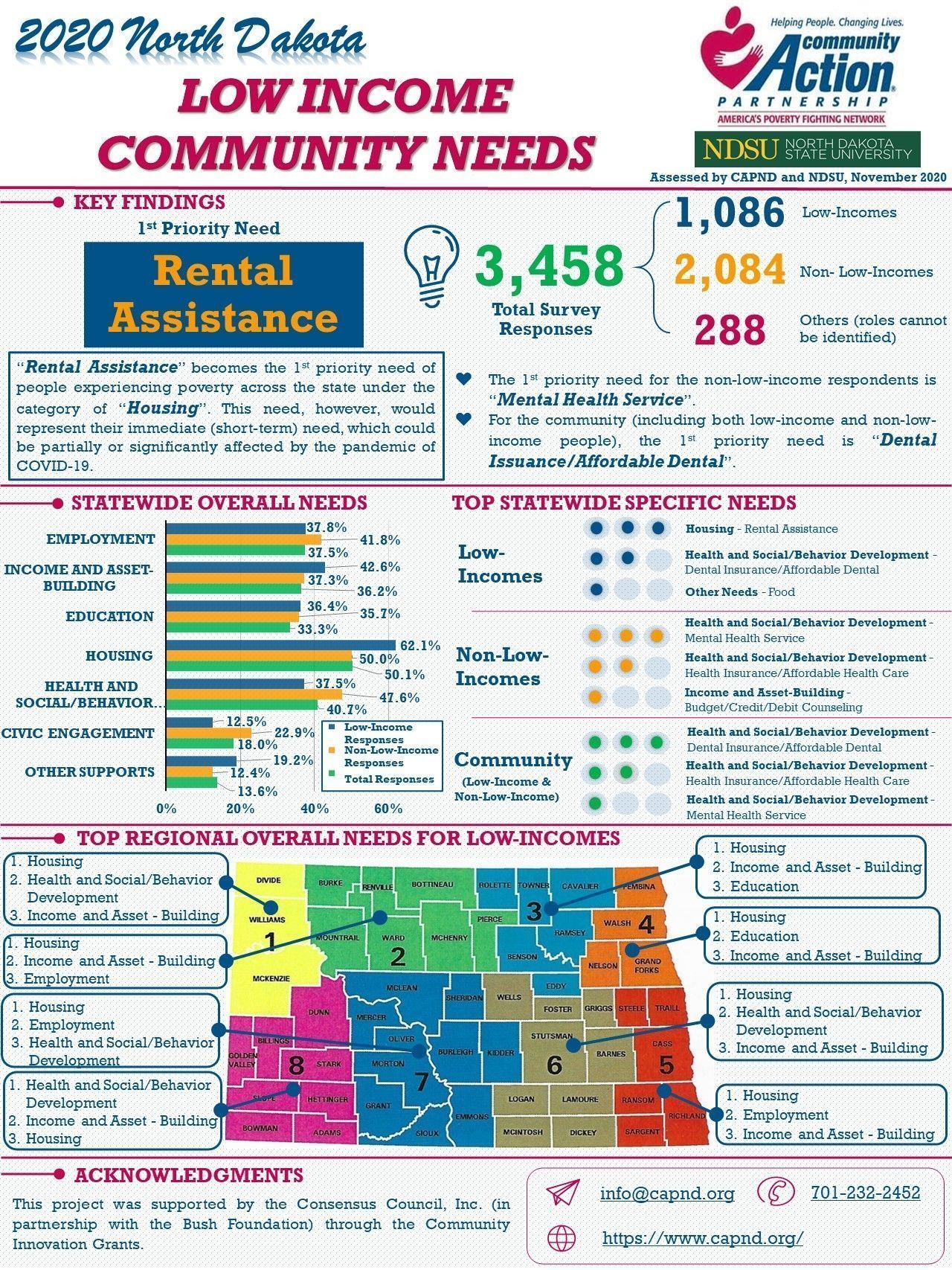 Executive Summary

This project is intended to conduct a study on the statewide needs assessment of low-income people in North Dakota by means of surveys, questionnaires, and statistical analysis methods. The North Dakota Community Action Agencies (CAAs), as nonprofit organizations, were originally established under the Economic Opportunity Act of 1964 to fight America's war on poverty. The most recent statewide needs assessment study of low-income people in North Dakota sponsored by the CAAs was performed more than ten years ago in 2006. Apparently, its results are outdated, and it is urgent for CAAs to carry out a new round of needs assessment with the goal of better understanding the current and real needs of people experiencing poverty, so that the CAAs may adjust and/or improve their existing services/programs, if needed, to best serve and assist these people in our state. Additionally, the new National Community Action Organizational Performance Standards requires that the CAAs conduct needs assessments on a regular basis. Simultaneously, CAAs follow an ongoing evaluation process that puts a tremendous weight on the needs of the community; and collecting the assessment is one of the first steps in the process. The results of the assessments are intended to drive programming at each of the local CAAs.

The needs assessment study was accomplished through the collaboration of the CAAs and North Dakota State University (NDSU) by means of several kinds of surveys (such as online or paper surveys, etc., depending on the suitability of these survey methods to different respondent groups) to low-income individuals and families across the state of North Dakota. In the study, the survey data were organized and analyzed in a statistical way to find out the priority needs of these people. The survey responses from low-income respondents were separated from the responses from non-low-income participants, which allows the research team to compare them and then identify the similarity, difference, and uniqueness of them in order to ensure the validity and accuracy of the survey study and avoid bias. Additionally, two comparison methods were used in the study, including cross-sectional and longitudinal comparisons. These methods allow the research team not only to identify the top specific needs under the seven need categories, including Employment, Income and Asset-Building, Education, Housing, Health and Social/Behavior Development, Civic Engagement, and Other Supports, through the cross-sectional comparison, but also to be able to find out the top specific needs regardless of which categories these needs belong to through the longitudinal comparison.
Why A Needs Assessment?
At Community Action, we continually conduct needs assessments across North Dakota because our Community Services Block Grant (CSBG) program supports community-based, anti-poverty programs. Local Community Action agencies receive funding from CSBG to develop local action plans based on assessment of needs, currently available services and locally available public and private resources. Action plans target one or more of three main themes: 1) Individuals and families with low incomes are stable and achieve economic security; 2) Communities where people with low incomes live are healthy and offer economic opportunity; and 3) People with low incomes are engaged and active in building opportunities in communities.