Identifying Whole Grain-Rich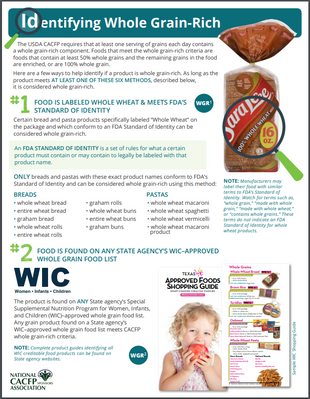 Directions: Review the "Identifying Whole Grain-Rich" pamphlet and answer the questions below. Click on the picture to download a copy of the pamphlet or contact our office to request a paper copy.
Quiz must be completed and submitted to SENDCAA to earn training credit. Your training will be submitted to Growing Futures after you have completed the quiz and qualified for the training credit. We are no longer issuing certificates for completed training. You can log into Growing Futures and check your profile for your training hours. Go to www.ndgrowingfutures.org/ and click on the "training" tab. All of your trainings will appear, beginning with the most recent.
This training is only available to participating SENDCAA providers and their employees.
The quiz has two options. You can either print out the PDF and manually complete the quiz and submit it to our office OR complete the online version which you then submit electronically.
Identifying Whole Grain-Rich -  1 hour